We believe that everyone in the world needs to be brought back into a relationship with our Creator, the One true God who reveals Himself through His Holy Scriptures. This relationship was broken in the Garden of Eden but restored by Jesus Christ on the cross and at His resurrection. By dying for us He took our sin and gave us His righteousness. All those who accept Jesus Christ as Lord and Saviour have this relsionship restored and can fulfill the reason for their existence, that is to worship God. As committed Christians we meet together, in obedience to God's command (Hebrews 10:25), to express that relationship in various ways.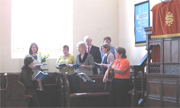 Worship and praise are central to our services, in which we acknowledge our dependence on God for physical and spiritual life - and their continuity.
A focus of both worship and teaching is the proclamation that Jesus Christ is God in the flesh, the living Son of God, whose death and resurrection have made possible the 'restored' relationship that all people can now enjoy with God - irrespective of past failures or present circumstances.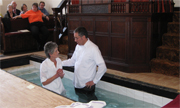 Along with worshipping God one of our main concerns is to reach out to those around us and share this Christian message, with its power to bring life, forgiveness, hope and joy to others who have not yet come to faith.
Other churches in the area that share our beliefs:
Pontrhydyrun Baptist Church, Cwmbran
Ebenezer Evangelical Congregational Church, Pontnewy